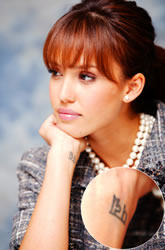 Celebrity tattoos are wide and varied. While some celebrities are heavily tattooed, others have a small amount of tattoos or a few very small tattoos. Celebrity tattoos commonly comprise of text and symbols, from the deep and meaningful to the absurd. Either way, you may find some tattoo ideas by following your favorite celebrities and their inking habits.
As you might imagine, many musicians have tattoos, but so do many famous sports stars. Most notorious for receiving tattoos based on their loved ones, perhaps, even movie stars adorn many designs from the cool to the ill advised, at best.
A Few Examples: Male Celebrity Tattoos
The soccer star David Beckham sports almost a dozen tattoos, most of them being of angels. There are many designs and meanings for angel tattoos, but these celebrity tattoos appear to have a deep, personal meaning. He has said that he believes
they protect him, or symbolize protection.
Nick Lachey, of 98 Degrees fame, has a sun tattoo that he had filled in when his band broke up. Dave Grohl, famed drummer of Nirvana and guitarist/vocalist of the Foo Fighters, has several tattoos inspired by Led Zeppelin, and many others in various tribal designs.
A Few Examples: Female Celebrity Tattoos
Female celebrity tattoos seem to be much more discussed than male celebrity tattoos. That being said, they once again range from simple imagery to complex, and from designs to words. Britney Spears, for example, has a kiss tattoo on her wrist and a Christian cross on her hip. Angelina Jolie, who at one time had a tattoo with the name of her second husband Billy Bob Thornton and a snake later had it covered it up and replaced with the latitude and longitude coordinates of her children's birth places. Hopefully, these celebrity tattoos will give you some ideas to adorn your own body, I wish you good luck.
[headline_arial_extra_large_centered color="#993300″]Find Your Dream Tattoo TODAY![/headline_arial_extra_large_centered]